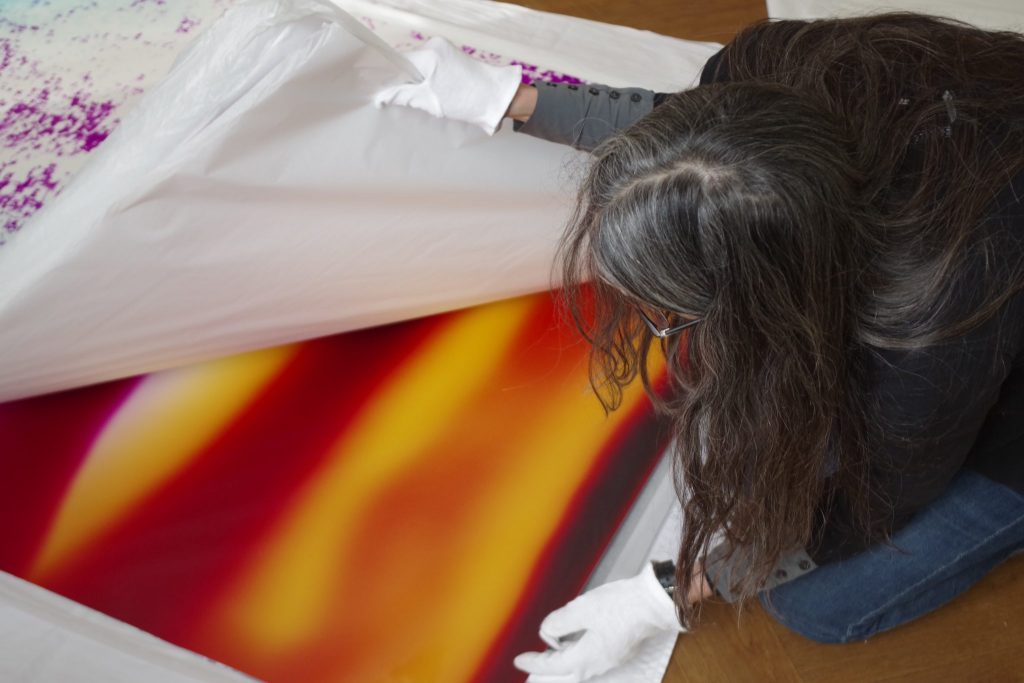 Installation of the Prix Photoforum 2016 exhibition: Andrea Good
PRIX PHOTOFORUM
Professionally active photographers and artists are invited to apply for the Prix Photoforum. Projects in all formats linked to photography – installations, prints, videos, digital works, network and computer art – are welcome.
The competition enables selected photographers to present and discuss their work with professionals of the fields of art, photography, and publishing during the Kick-Off Day, and to present the project in a curated exhibition. One winner also receives a prize money of CHF 5,000.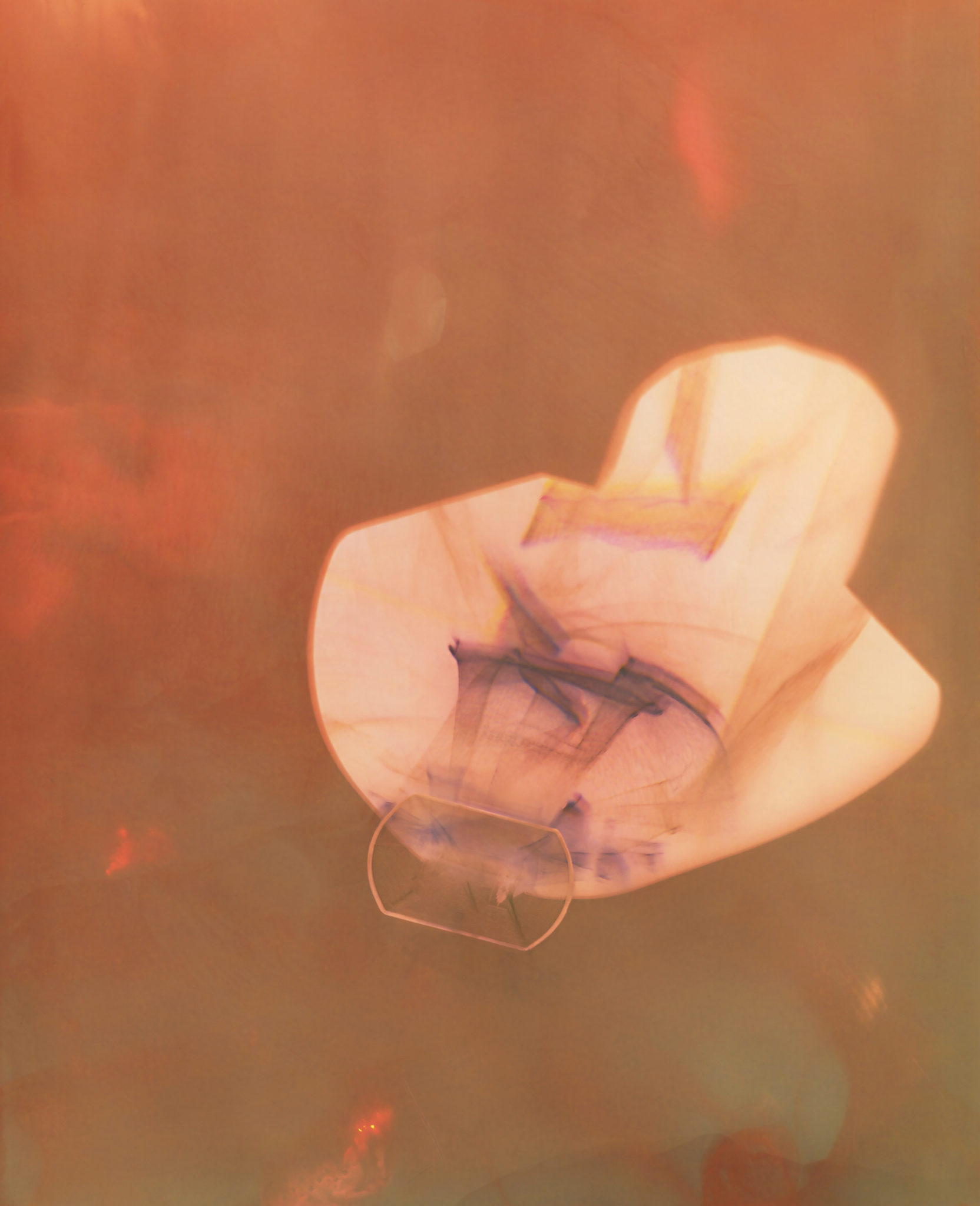 Laureate 2019: Christelle Boulé
PRIX PHOTOFORUM 2020
Applications open: 25.5 – 10.7.2020
Kick-Off Day: 24.10.2020
Exhibition: 6.12.2020 – 17.1.2021
Conditions for participation
The Prix Photoforum is open to persons who have either paid the registration fee or are members of the Photoforum Pasquart association and whose membership run until December 2020. There are no age or nationality limits and all genres of photography (including installations and moving images) are welcome.
→ Become a member
Applications 2020

The applications for the 2020 edition of the Prix Photoforum will be open from 25 May to 10 July 2020.
https://forms.gle/38b2XSkmWJHzVeim8
Download the rules in German or French.
Jury 2020
Rolando Bassetti, Director, CACY – Centre d'art contemporain Yverdon-les-Bains
Doris Gassert, Research Curator, Fotomuseum Winterthur
Danaé Panchaud, Director, Photoforum Pasquart, Biel
& Mitglieder des Vorstands des Photoforum Pasquart
Kick-Off Day 2020
The professionals of this year's Kick-Off Day will be announced in September.
Prix Photoforum 2019
The Prix Photoforum 2019 was awarded to photographer Christelle Boulé (*1984) for her series Through the Glass among 127 applicants.
The selected photographers are: Guillaume Baeriswyl, Christelle Boulé, Olga Bushkova, Jeanne Chevalier, Ludmila Claude, Charles Frôté, Peter Hauser, Pierre-Kastriot Jashari, Hugo Leos, Jonathan Levy, Laura Morier-Genoud, Jessie Schaer, Małgorzata Stankiewicz.
Laureate 2019
This year, the Prix Photoforum, endowed with 5,000 CHF, goes to Christelle Boulé (*1984). The as yet unpublished project Through the Glass is part of her many years of work on perfume and the visual representation of olfactory perceptions. For this project she created analogue colour photograms whose motifs were selected from a collection of perfume bottles which she calls her "salon des refusés". These are perfumes that the owners no longer want because they remind them of old relationships or because they no longer match their personality. Together with the perfume bottles, the stories behind their task are documented and shown together with the pictures.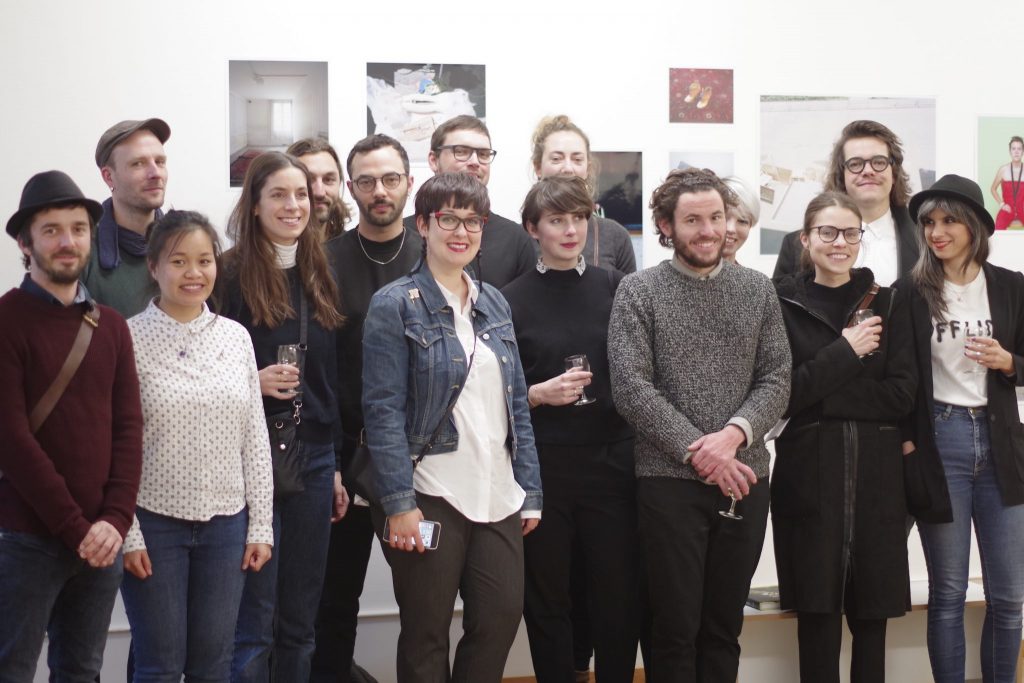 Artists Prix Photoforum 2017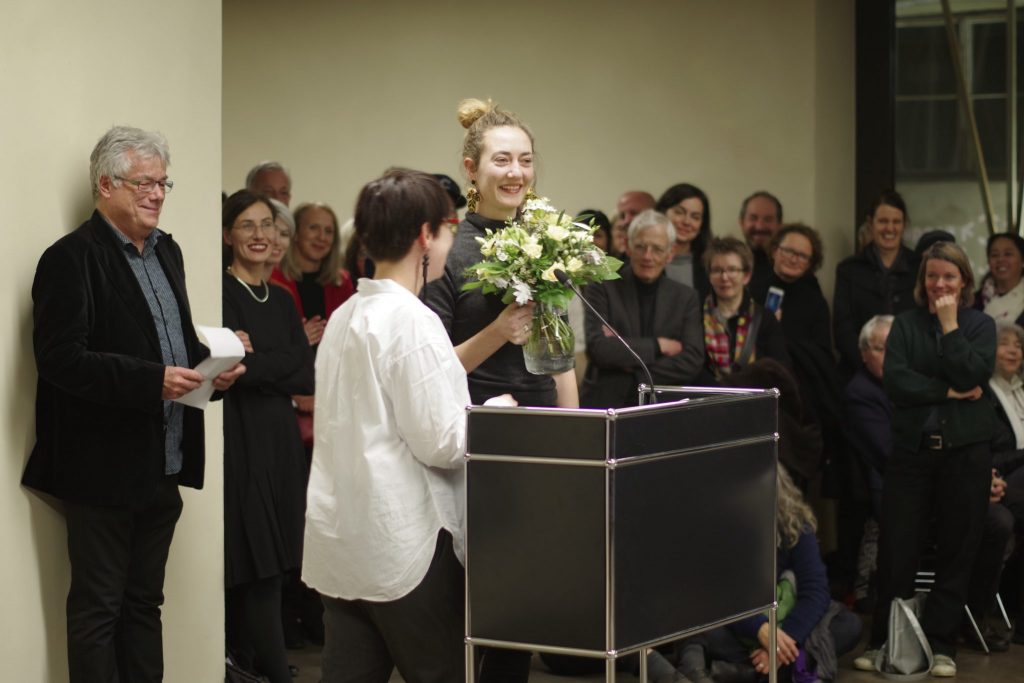 Winner Léa Girardin, Prix Photoforum 2017
Former laureate of the Prix Photoforum
2018 Solène Gün (*1996, Biel)
2017 Léa Girardin (*1989, JU)
2016 Youqine Lefèvre (*1993, BE)
2015 Benoît Jeannet (*1991, Neuchâtel)
2014 Roshan Adhihetty (*1990, Lausanne)
2013 Delphine Burtin (*1974, Lausanne)
2012 Stefanie Daumüller (*1989, Grenchen) 2. Preis
2012 Giuseppe Micciché (*1971, Zürich)
2011 Diego Saldiva (*1983, Berne)
2010 Jean-Noël Pazzi (*1983, Chamblon)
2009 Karina Muench-Reyes (*1975, Zurich) ; Carine Roth (*1971, Lausanne)
2008 Matthieu Gafsou (1981, Lausanne)
2007 Barbara Müller (1972, Zürich)
2006 Emmanuelle Bayart (1981, Genève)
2005 Brigitte Lustenberger (1969, Bern)
2004 Rolf Siegenthaler (1970, Bern)
2003 Hélène Darwish (1972, Neuchâtel)
2002 Marco Zanoni (1970, Bern)
2001 Andreas Greber (1955, Hasle)
2000 Ladislav Drezdowicz (1942, Basel)
1999 Rudolf Steiner (1964, Roggwil)
1998 Michael Lüdi (1961, Biel/Bienne)
1997 Joël Desaules (1966, Lausanne)
1996 Georg Freuler (1938, Basel)
1995 Olivier G. Fatton (1957, Delémont)
1994 Georges Hinoran (1951, Oberdiessbach)
1993 Valérie Chételat (1970, Biel/Bienne)